WELCOME TO MY AUSTRALIAN FINCH SITE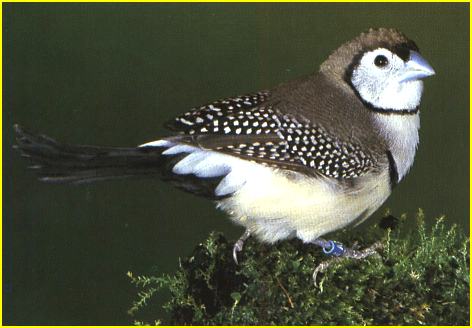 I HAVE ADDED INFO ON SPECIES, BREEDING, AND CARING FOR THESE BEAUTIFUL LITTLE BIRDS, I HAVE ALSO INCLUDED SOME NICE PICTURES FOR YOU TO LOOK AT. I HOPE YOU FIND THIS SITE VERY HELPFUL, PLEASE EMAIL ME OR SIGN MY GUESTBOOK WITH YOUR VIEWS, OR ANY HELP YOU MIGHT NEED.

Click to subscribe to carolenorman
HOW I STARTED IN AUSTRALIAN FINCHES
I STARTED WITH MY HUSBAND WHO SHARES ALL THE FEEDING AND CLEANING, ARE FIRST AUSTRALIAN FINCHES WERE A PAIR OF HECK'S GRASS-FINCHES, WHICH BRED ALMOST STRAIGHT AWAY WHICH WE WERE VERY PLEASED ABOUT AS YOU CAN IMAGINE.
THEN WE STARTED MEETING OTHER AUSTRALIAN FINCH BREEDER'S SO AFTER VISITING SOME OF THEIR AVAIRIES WE WERE AMAZED AT THE COLOURS AND DIFFERENT VARIETIES OF AUSTRALIAN FINCHES THEIR WERE.
SO THAT WAS IT WE PURCHASED DIFFERENT SPECIES OF AUSTRALIAN FINCHES, AND THEN YOU COULD SAY WE HAVE BEEN HOOKED EVER SINCE.
WE JOINED OUR LOCAL (AFS) AUSTRALIAN FINCH SOCIETY
AND BOUGHT BOOKS AND VIDEO'S ON ALL THE DIFFERENT FINCHES WE COULD GET AND ARE STILL LEARNING EVEN TO TODAY.
WE HAVE A LARGE HEATED SHED WITH LIGHTING AND 2 INDOOR AND 2 OUTDOOR FLIGHTS WHICH OUR BIRDS HAVE ACSESS TO THE OUTSIDE ALL YEAR ROUND. SO THEY CHOOSE WHEN TO GO IN AND OUT THEMSELVES.THEY LOVE BATHING EVEN IN ALL SORTS OF WEATHER AS WE LIVE IN ENGLAND IT CAN GET PRETTY COLD HERE IN THE WINTER BUT IT DOES NOT SEEM TO WORRY SOME OF THEM THEY HAVE EVEN BEEN SEEN SITTING ON THE PERCH OUTSIDE WHEN IT HAS BEEN SNOWING ALTHOUGH WE DO NOT GET SNOW THAT OFTEN.