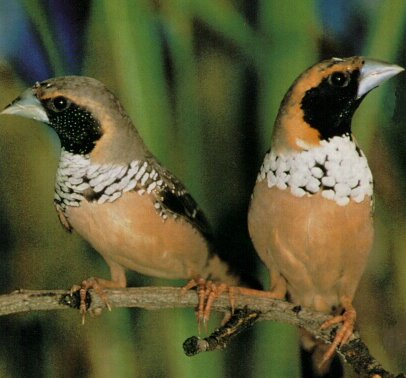 PICTORELLA FINCH
(LONCHURA PECTORALIS)
The pictorella finch has a longish bill and short round tail. Its face and throat an intense black with a purple lustre; some of the black feathers, especially on the maler regions, have minute white spots. A bright buffish fawn stripe runs from the base of the upper mandible, over the eye and follows the line on the black area to become a broader stripe or patch on the side of the neck, behind the ear coverts. Upper-parts light brownish grey, a little darker on the tail and duller on the wing quills. There are tiny white terminal spots on the outer wing coverts. Underwing and under wing, coverts mainly pinkish fawn.
It is native to the tropical northern AUSTRALIA where it inhabits open country, usually grassland with scattered bushes near creeks and waterholes. Ocasionally they can be found away from water but usually only when they are looking for it.
In the KIMBERLYS they can be found in true SPINIFIX country and they have been seen sharing waterholes with gouldian finches although usually they are normally associated with GRASSFINCHES.THE PICTORELLA FINCH is very rare with aviculturists and the A.F.S. has set up a RADS group to try to breed any remaining birds to bring the species back up .